Frequently Asked Questions




Lower back Pain: Q & A Basics
Continue reading to learn more about some of the most frequently asked questions about back pain.
How common is back pain?
Back pain is actually one of the most common medical problems in the United States, as well as across the globe. In the U.S., approximately 31 million Americans will experience low back pain at any given time. Worldwide, back pain is the single leading cause of disability, with 80% of the entire population experiencing back pain in their lifetime.
Ranging from a dull, constant ache to jolting, stabbing pain that comes and goes, back pain can take many forms that affects people of all walks of life. In fact, in the U.S., back pain accounted for more than 264 million missed work days in one single year – a total of two work days for every full-time worker in the country. If you're suffering back pain, you are not alone.
What causes back pain?
Chronic back pain may be the end result of overuse injuries or repetitive motions that strain major muscle groups. It may also be related to degenerative changes in the discs or vertebral joints which alter your musculoskeletal alignment and/or compress nerve roots.
When should I see a doctor?
The spine is a crucial component of the body. When back pain strikes, it is wise to err on the side of caution and visit a doctor if pain symptoms persist for longer than two weeks, or you could risk chronic discomfort, loss of motion, or even loss of sensation.
Pain that is accompanied by numbness, weakness, or aches in the arm should be checked as soon as possible. If you begin experiencing incontinence issues, call your doctor immediately.
Can a herniated disc heal?
Actually, it can "Spontaneous Resorption," as it's referred to in the medical field, is the expected outcome for the majority of herniated discs. Current research suggests that this applies to up to 2/3 of cases.
Do I need back surgery?
Not necessarily, you first need to talk with your doctor and examine every option and don't be afraid to get a second or third opinion. Back surgery is one of the most commonly over prescribed surgeries and the American Society of Anesthesiologists estimates that 20 to 40% of back surgeries fail. I would always exhaust every possibility before going under the knife.
I have been diagnosed with a herniated/bulging disc and my doctor told me I can't exercise anymore, is this true?
In the initial stages if you have severe pain then taking it easy and limiting activities may be necessary. However, one of the most important things that people with low back pain can do is to stay as physically active as possible in daily life and exercise regularly as this contributes to pain reduction and healing.
Still struggling with chronic lower back pain?
My lower back pain recovery course is coming soon

21 day video program designed to decrease chronic lower back pain
It has been developed with over 25 years of experience in the field of strength and rehabilitation
Can be carried out at home with no need for any special equipment
Results can be achieved with as little as 10-20 minutes of work a day
Sign up below to be notified of the start date
This is a 21 day online video course designed to relieve those suffering from chronic lower back pain/sciatica.
You will be guided daily by your coach,
a lower back rehabilitation specialist with 25 years of experience in the field of sport performance and rehabilitation.
Each day will build on the last, where you can immediately apply what you have learned and see the effect it has on the path to pain free living.
You'll also have access to the exclusive FB group for course members just like you where you can ask for help when you get stuck, and have the uplifting community support that will keep you going.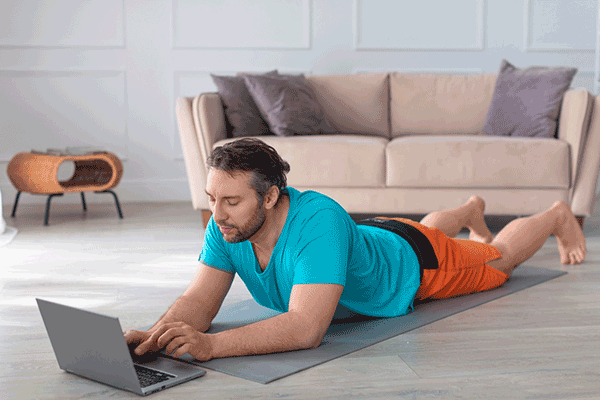 Frequently Asked Questions
Who is the course designed for?
This course is designed to help all those suffering from chronic lower back pain/sciatica nerve pain.
How long is the course?
The course takes 21 days to complete.
How much time do i need to dedicate to it?
The course starts out with a few minutes of work everyday and builds up to 20 minutes by the end of the 21st day.
Do i need any special equipment?
No, not all the program is designed to be done at home or even in your office without the need for any special equipment.
How is the course delivered?
It is an online daily video course and you can access it from your smart phone or laptop.
Will this course help with my disc herniation?
Most definitely! The exercises in this course are designed to put your body in the best state to help the disc reabsorb and to let you return to an active life.
Do you offer a money back guarantee?
Yes i do! This course is designed to reduce your chronic back pain by 21 days. If you do not see any results then please contact me and i will happily refund your money.